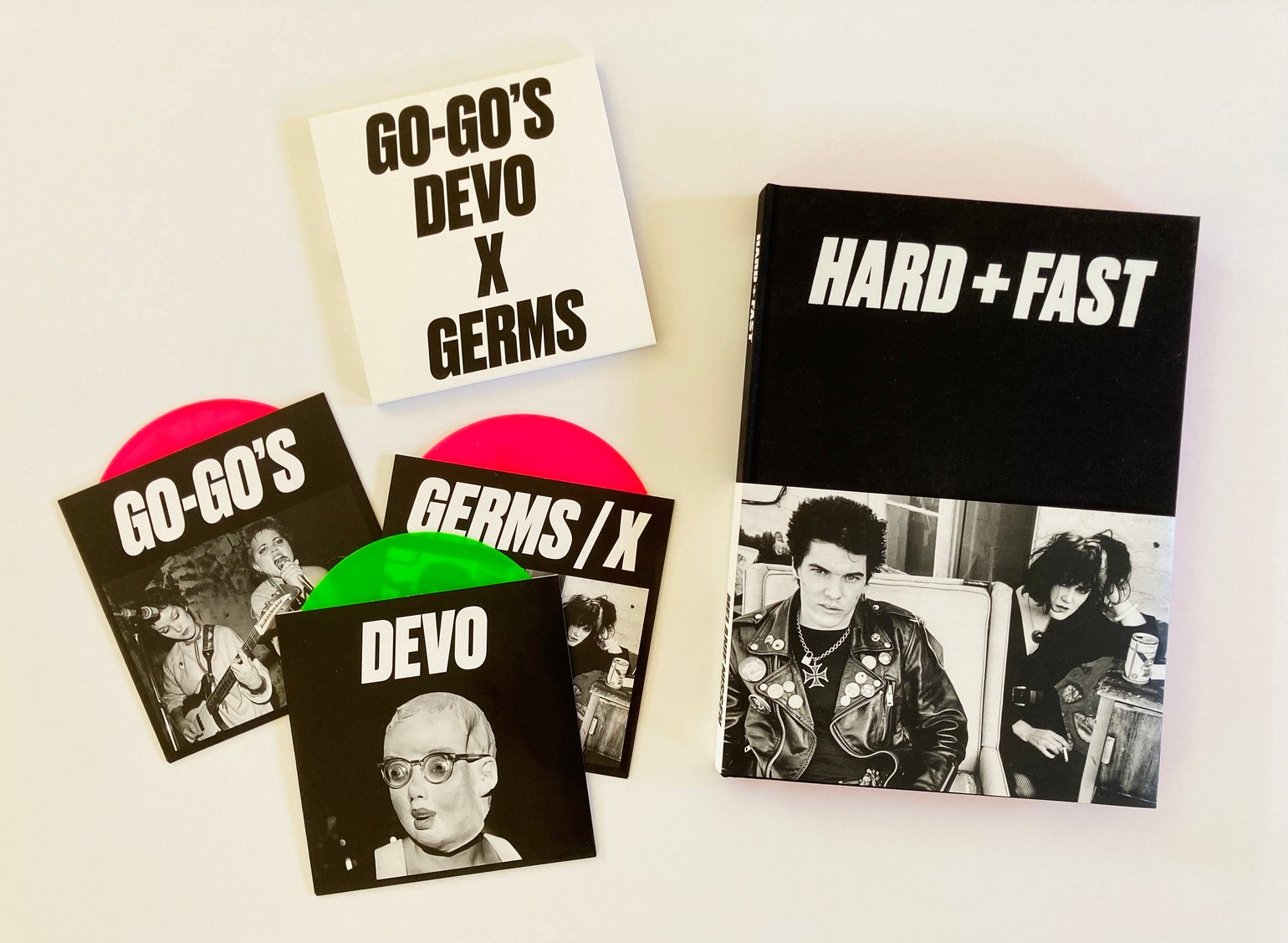 HARD + FAST (HARDCOVER) (SPECIAL EDITION WITH THREE EXCLUSIVE 7" SINGLES) - LAST COPIES!
$

125.00

USD
---
AUSTRALIAN ORDERS: PLEASE ALLOW UP TO 1-2 WEEKS FOR DELIVERY
USA & NORTH AMERICAN ORDERS: PLEASE ALLOW UP TO 2-4 WEEKS FOR DELIVERY
REST OF WORLD ORDERS: PLEASE ALLOW UP TO 3-6 WEEKS FOR DELIVERY
Melanie Nissen was the co-founder and photographer of the legendary Los Angeles magazine, Slash.
Between 1977-1980 she photographed the Los Angeles punk scene. Taking photos of the fans, the bands and the scene around her.
Local heroes like Screamers, Bags, Germs, X, Go-Go's, Black Randy, Weirdos, Dils, Zeros, Alley Cats, Deadbeats, Fear along with local legends Brendan Mullen, Kim Fowley, Claude Bessy, Russ Meyer, Penelope Spheeris, northern neighbors The Nuns, Avengers, Crime, Dead Kennedys, The Offs and visitors including Pere Ubu, Magazine, Devo, Damned, Cramps, Dead Boys, Peter Tosh, Ramones and Sex Pistols all form her body of work from this time.

These images are from a box in the garage and are all that's left of a larger body of work.
Hard + Fast is a photography book, some previously published in Slash Magazine and some never seen before.
"Misfits! Musicians!! The Summer Of Hate!!! Melanie Nissen brings the Los Angeles punk scene of 1977-1980 (RIP) back to life in a visual tour".
- Pat Smear, guitarist of The Germs.
THE BOOK :
PAGES: 220
DIMENSIONS: 14.29" x 10.43" x 0.98" / 363mm x 265mm x 25mm
WEIGHT: 4.63lb / 2.1kg
FORMAT: Black cloth hardcover with deboss white foil stamping and wraparound obi strip
PAPER: 157gsm matt art paper
THE VINYL :
DEVO - Too Much Paranoias / Praying Hands 7" (BRC 031)
Two tracks from the very same show pictured on cover art, Starwood, Hollywood CA, October 1977 and sourced from a 24 track tape! Completely unreleased!
-----------------------------------------------------------------------------
GO-GO'S - London Boys / I'm The Only One 7" (BRC 032)
London Boys, a very early tune that didn't make it to the studio is recorded live at a suburban Los Angeles high school on the Beauty & The Beat tour and the flip from the Greek Theatre, also in Los Angeles in 1984.
-----------------------------------------------------------------------------
DANGERHOUSE RECORDS SPLIT 7" (BRC 033)
A mystery split single featuring previously released tracks originally released on the Dangerhouse label by two Los Angeles bands who take prominent place in the pantheon of punk rock.
Three exclusive seven inch singles in picture sleeves housed in slipcase. Neon lucky dip vinyl. Random two neon pink / one neon green colourway or random two neon green / one neon pink colourway. All singles are made in an edition of five hundred and only available in this limited edition set.
---